2020 Joint Briefing of Government R&D Programs was held by Government Ministries
WriterGyuha Jo
Date2020-01-08 00:00
Hit656
File
20200108100243.jpg

(192.21KB / Download 129회)

Download
A Joint Briefing of Government R&D Programs by Government Ministries was held in 2 regions from January 6
th
(Mon) to 22
nd
(Wed) hosted by KISTEP and organized by 10 central administrative agencies that conduct R&D programs, including the Ministry of Science and ICT (MSIT), the Ministry of Trade, Industry and Energy (MOTIE), and the Ministry of SMEs and Startups (MSS).
※ (metropolitan area) '20.1.6 (Mon) to 1.8 (Wed), Rev. Han Kyung-Chik Memorial Hall of Soongsil University in Seoul, (mid-region) '20.1.20 (Mon) to 1.22 (Wed), Science Hall of National Science Museum in Daejeon.
The briefing is designed to inform the main contents and detailed plans of R&D programs of ministries invested by the Government R&D budget (24.2 trillion won) for 2020, which was finalized in the National Assembly in December of last year, with Industry-University-Research Institute researchers.
On the first day of the briefing (January 6
th
and 20
th
), the MSIT and Ministry of Education (MOE) presented the contents of R&D programs and schedules. The presentations were continued by the MOTIE, the MSS and the Ministry of Health and Welfare (MOHW) on the second day (January 7
th
and 21
st
), and on the third day (January 8
th
and 22
nd
) was followed by the Ministry of Agriculture, Food and Rural Affairs (MAFRA)ㆍRural Development Administration (RDA)ㆍKorea Forest Service (KFS), the Ministry of Land, Infrastructure and Transport (MOLIT), the Ministry of Oceans and Fisheries (MOF), and the Ministry of Environment (ME).
The place for sharing key core policies, including '20 Government R&D budget major contents, MaterialㆍPartㆍEquipment field R&D follow-up plan and government support policy, major improvement of government R&D system, was also held.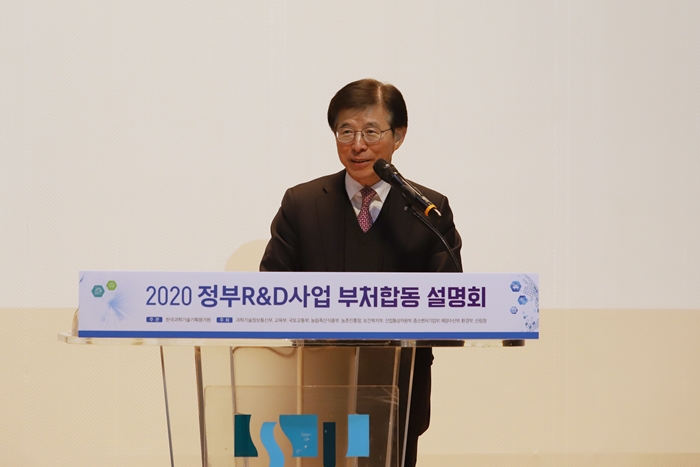 ▲ Opening address by Sang-seon Kim (President of KISTEP)
Sang-seon Kim (President, KISTEP) said, "the solutions to various domestic social problems such as low birth rates, as well as international issues such as technological hegemony and the securing of advanced technologies, are ultimately in S&T" in his opening address by emphasizing the importance of S&T.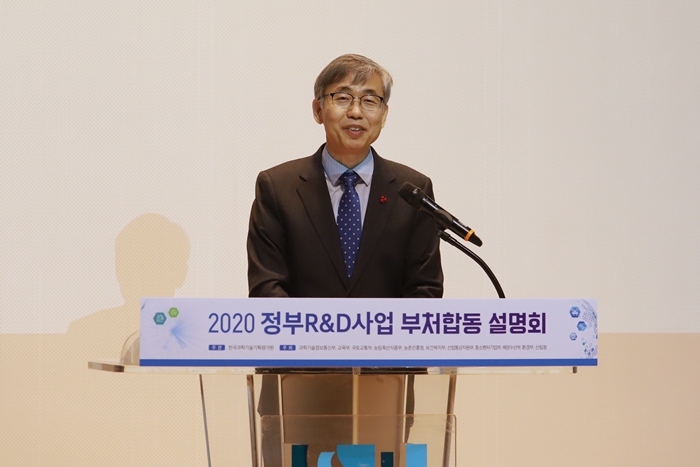 ▲ Greeting address by Sung-Soo Kim (Director of S&T Innovation Division, MSIT)
Sung-Soo Kim (Vice Minister of Science, Technology and Innovation Office, MSIT) mentioned that "the fact that government R&D budget was extended to 24.2 trillion won of the highest value represents the strong will of government and S&T society to prepare future uncertainties and expand the foundation for sustainable growth through R&D" in his greeting address. He also emphasized that "researchers will be generously supported to study as much as they could since our future is depend on them" to motivate researchers to challenge creative researches and achieve results that meet the expectations and trust of the nation without being afraid of fail.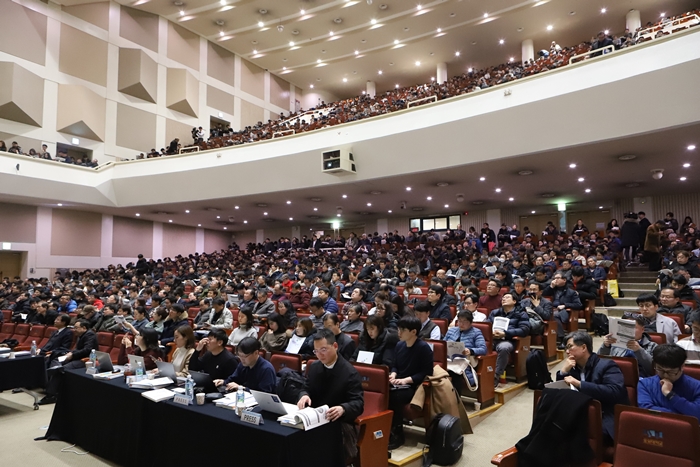 ▲ The Government R&D Program Joint Briefing in 2020
Detailed explanation for briefing could be found in the KISTEP homepage (
www.kistep.re.kr
), and online live* service is also provided.
*Online live ('1.6 ~ 1.8): (web) http://www.castmedia.kr/live/kistep, (mobile) http://www.castmedia.kr/m/kistep